Pumping Equipment
---
[ DRAIN CLEANING & HIGH PRESSURE WASHING ] [ HIGH & ULTRA HIGH PRESSURE PUMPS ] [ PROCESS PUMPS ]
---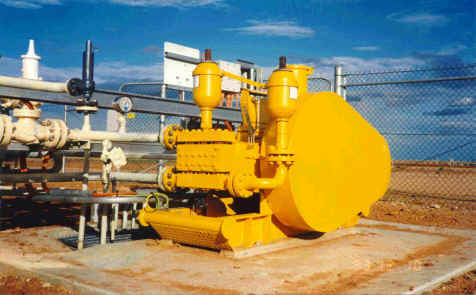 A Duraqual recovered oil pump, operating in the arduous conditions of Central Australia
---
Pumping Equipment ( a division of Lawrence Hall ) was established in 1963 as a pump application and engineering company. Since that time the "Duraqual" brand of pump has been manufactured to meet the numerous demands of Australian process industries, in fact pumps built in the mid 1960's are still operational today.
APPLICATIONS

Salt water disposal

Boiler feed water

LPG injection

Fertiliser plants

De-scaling

Reject & oily water disposal

Secondary recovery

Lubricant injection

Refurbishing heat exchangers

RECIPROCATING PLUNGER PUMPS

Six triplex pump frame sizes

Flow rates to 1000 litres/minute

Power rating 1 kW to 300 kW

Pressures to 24,000 PSI (1655 BAR)

Liquid ends tailored to suit customer requirements

METERING PUMPS

Power rating 0.5-22 kW

Pressures to 10,000PSI

Flow rates to 200 litres/minute

Simplex and Duplex

Variable stroke

Manual or automatic stroke adjustment

LIQUID END SELECTION- Plunger, Mechanical diaphragm, Hydraulic diaphragm

Liquid ends tailored to suit customer requirements

Four basic frame models
As a medium sized company, Pumping Equipment can "tailor" pump designs to suit a customer's particular requirements by calling upon more than 80 years of collective experience in plunger pump design and application. Being the only manufacturer of triplex plunger pumps in Australia, places us in the unique position of being able to supply the Australasian region very rapidly. Any pump modifications necessitated by changes in process conditions and demands can be made quickly. Pumping Equipment also maintains a large parts inventory, ensuring swift spare parts supply and minimal equipment down time.
Duraqual Process Pumps are designed and manufactured to comply with the American Petroleum Institute's API 674, and API 675 standards, as well as the Hydraulic Institute. Durability and quality has been a key factor in the success of our company. A Quality Assurance Plan is employed in the design and manufacture of our pumps.
For further information regarding our complete range of pumps and specifications, please contact our Sales Department

Telephone

(61) 02 9838 0799

Fax

(61) 02 9838 0399

Postal Address

11 Distribution Place

Seven Hills NSW 2147

AUSTRALIA

Electronic mail